August 24th, 2011 by Mama
If you're new to this blog, you may want to subscribe.
Thanks for reading Vegetarian Frugal Housewife!
"Vegetables are a must on a diet. I suggest carrot cake, zucchini bread and pumpkin pie."
~ Jim Davis, 20th-Century American Actor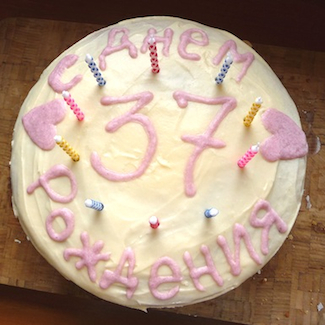 When I was a child, everyone was crazy about chocolate cake. It seemed to be the star of every birthday party, along with the balloons, presents and pin-the-tail-on-the-donkey.
Myself, I've never been extremely partial to chocolate. I can enjoy it, to be sure, but I don't crave it. And, it certainly isn't at the top of my "yummy" list, whether we are talking about cakes, cookies, candy or ice cream.
I was pretty boring as a kid, preferring oatmeal cookies, white chocolate candy and plain vanilla ice cream. Then, something happened that set up my cake preference for life…I tried my first slice of spice cake.
I honestly have no idea where or when this happened. But I do know that once I tasted it, I never had another cake preference again. Wedding cake? Must be spice cake. Birthday cake? Yup, spice cake. Baby shower? Sign me up for some spice cake!
Other people have harangued me for my choice numerous times. Apparently there are large numbers of people who dislike or even (shudder) hate spice cake. Those people are boring whiners who need to take there Devil's Food cake and shove off! LOL.
But, my one fault has always been that I have never baked a spice cake myself that did not come out of a box marked Betty Crocker or Duncan Hines. Truly. Never. Not once. Until just this year.
I wanted to make something special for my hubby's birthday in May. And those of you who read this blog will know that we are healthy food people, or at least natural food people. So, how could I turn to a box.
Well, I couldn't do that. So, I did my research, practiced a little trial-and-error and ended up with the most moist, lovely, homemade spice cake. It was a big hit (with "Happy Birthday" written in Russian) and was devoured rapidly…more of it by me than anyone else. I can't help it, I just LOVE spice cake.
Now I have baked it again, confirming its amazingness and am sharing it with you. Enjoy! :o)
Scintillating Spice Cake
Makes: 2 9-inch round layers
Prep Time: 20 minutes
Cooking Time: 50 minutes

Ingredients:
1.25 cups whole wheat flour
1.25 cups white flour
1.75 cups sugar
1 tsp baking soda
2 tsp baking powder
.25 tsp salt
1.5 tsp cinnamon
.5 tsp ginger
.5 tsp ground cloves
1 tsp nutmeg
.75 tsp allspice
.5 tsp pumpkin pie spice
.75 cup melted butter
3 eggs
2 tsp vanilla extract
1.5 cups pumpkin pureé
.5 cup buttermilk
.5 cup milk (I use soy.)*
1 apple, slice very thin

Optional:
raisins
walnuts
applesauce (replace 1.5x for the milk)

Cake Directions:

1. Preheat oven to 350°F.
2. Combine all dry ingredients in one bowl.
3. Combine all wet ingredients in a separate bowl.
4. Slowly mix wet into dry ingredients to create a smooth batter.
5. Add any extras (raisins, walnuts etc…)
6. Line bottom of one spring form pan with apple slices
7. Pour in the bottom 1/4 of two buttered springform pans.
8. Bake for 45-55 minutes, testing near the end with a toothpick.
9. Release spring edges and allow to cool for more than 1 hour before frosting.
10. Cut the top of the non-apple lined cake so as to make it flat level.

For Buttercream Frosting:

3.5 cups powdered sugar
1 cup softened butter
.25 cups milk
3 tsp vanilla

Frosting Directions:

1. Cream together butter, sugar and vanilla.
2. Add milk slowly, as necessary, to achieve desired consistency.
3. Cool in the fridge for 15-20 minutes, or as long as needed.
4. Place the leveled cake on the bottom of your cake plate.
5. Frost the top of this level cake.
6. Gently turn the apple-lined cake upside down and place on top of the bottom layer. (This sometimes works better if you refrigerate the cake for an hour first.)
7. Frost top and sides of entire cake generously.
8. Store in a lidded cake carrier or the fridge.

This cake is undeniably GORGEOUS, but just be careful. It can become so gorgeous that it begins to look like a sensible breakfast. It's not. Try a parfait instead. Save the cake for dessert. ;-)