September 18th, 2010 by Mama
If you're new to this blog, you may want to subscribe.
Thanks for reading Vegetarian Frugal Housewife!
"Once you get a spice in your home, you have it forever. Women never throw out spices. The Egyptians were buried with their spices. I know which one I'm taking with me when I go."
~ Erma Bombeck, American humorist (1927-1996)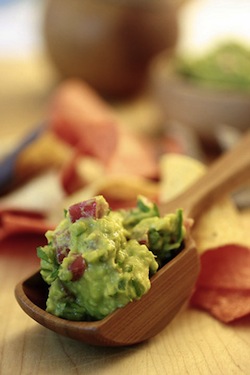 While in Guatemala earlier this year, Papa managed the near impossible (or so I thought.) This is to create a guacamole that Mama actually liked.
You see, Mama had lived in Mexico over a decade ago, and grown up in an East Coast city with loads of Spanish people and Spanish food around, yet never once tasted a guacamole that she liked. Which made this Mama very sad, as I know how healthy avocados are and really, really wanted to like them.
Try as I might, no likage occurred. It wasn't the slimy greenness of the guacamole, that I surprisingly can handle. It was the flavour, or lack thereof.
Until magnificent Papa got his hands on some nicely ripe avocados in Guatemala. A quick list from Mama of what is usually in Guacamole, plus a few hints and tips from online resources and ta-da! Papa's Delectable Guacamole!!!
And it truly is, too. I cannot stop eating it and I am now a happy lover of guacamole. So, thanks my dearest Papa! You rock! Saved the day once again, haven't you?
Now, for those Latin American food purists out there, I know that some of the ingredients may not be traditional. But, we were going for the Mama tastebud stamp of approval only. ;-)
Without further adios, or whatever…..
Papa's Delectable Guacamole
Makes: 1 serving
Prep Time: 5-10 minutes


Ingredients:
1 ripe avocado
1 clove garlic
2 tbs salsa
juice of 1/2 lime
salt
pepper

Directions:

1. Cut avocado in half, remove seed and scoop the meat into a bowl.

2. With a fork, mash the avocado and mix thoroughly, making a cream paste.

3. Dice the garlic very fine. Mix it into the bowl.

3. Add the two tablespoons of salsa (or more, if desired).

4. Mix all ingredients well. Salt & pepper to taste.

5. Serve with tortilla chips, rice and beans or burritos.

So delicious! So scrumptious! So delectable! I bet that, once you start, you can't stop eating it!