February 20th, 2009 by Mama
If you're new to this blog, you may want to subscribe.
Thanks for reading Vegetarian Frugal Housewife!
"Everyone eats and drinks, but few appreciate taste."
~ Confucius, Chinese Philosopher (551-479 BC)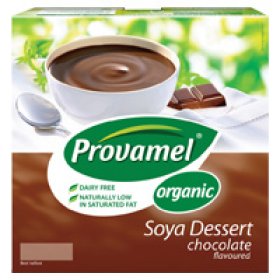 First things first, this product is only available in Europe, to the best of my knowledge. It is a soya version of pudding (a.k.a. Custard.)
Provamel Soya Dessert is vegan and organic. It's made by the same folks who make Alpro Soy Milk.
From the company website:
Description:
A delicious dairy free chocolate flavoured dessert made with a blend of water and soya beans with added calcium and vitamins.
Ingredients:
Water, Raw cane sugar, Hulled soya beans (6%), Modified tapioca starch, Chocolate (1.8%), Cocoa powder (1.6%), Tri-calcium phosphate, Thickener: Carrageenan, Sea salt, Natural flavouring, Vitamins: Riboflavin and B12.
Nutritional values: per 100g/100ml
energy value 88Kcal / 371KJ
protein 3g
carbohydrate 13.6g
of which
sugars 10.8g
lactose 0g
fat 2.3g
of which
saturated 0.8g
mono unsaturated 0.6g
poly unsaturated 0.9g
of which
omega 6 0.82g
omega 3 0.1g
cholesterol 0mg
fibre 1.2g
sodium 0.05g
calcium 120mg
vitamins
vitamin B2 0.24mg
vitamin B12 0.15µg
*My Review:
The appearance is the first thing that you notice. It looks like those little pudding cups that you can buy in multi-packs at the supermarket.
I put it in the fridge and let it get nice and cold before trying it, as they sell it out on th warm market shelves. (At least at my local whole food retailer.)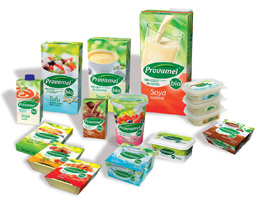 When you open it, which can be difficult if you get a very well-glued pull-top, you may need to mix it up a bit to get the creamy texture, as mine were a bit lumpy upon opening.
I tried the chocolate, as that was always my favorite flavour of instant pudding. I must say that I was impressed to no end with the similarity of this healthy product to my over-processed, chemicalized pudding of yesteryear. So yummy!
I have since sampled the vanilla flavour, and sadly it does not compare. The soy-ness of it is underwhelming. But the chocolate is tops!
They have other flavours as well, mocha and toffee I believe.
What must be said is that I gave up dairy because of the excess of unhealthy mucous that it caused when I ate it. Provamel's Soya Dessert causes the same effect for me, probably due to the thickeners more than anything else, but may not for you.
My final vote: Good product for chocolate pudding lovers. Great healthy alternative for kids lunch boxes. Avoid if you have sinus reactions to dairy, food thickeners or soy products.
I give it a 3.5 on a scale of 5. Try it out and decide for yourself.