November 15th, 2008 by Mama
If you're new to this blog, you may want to subscribe.
Thanks for reading Vegetarian Frugal Housewife!
"Nothing on Earth so beautiful as the final haul on Halloween night."
~ Steve Almond, American Fiction Writer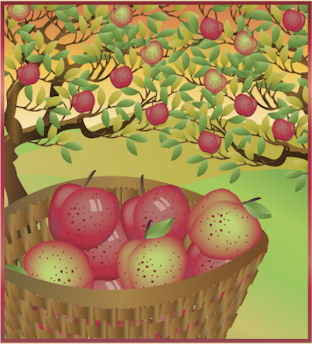 This is the mother of all cakes, made for my favorite season, Autumn. And for me the best spiritual harvest of the year is in the cool and leaf-strewn time between my two favorite holidays, Halloween and Thanksgiving. :-)
As for the cake itself, I cannot begin to tell you how proud I am of this gooey monstrosity of a tasty sweet treat!
Anyone who knows of my cake baking/decorating exploits of the past knows that I have tried several times to master the tall, round and flat cake of picture books and cooking magazines, but to no avail.
Well, this is it! Rich, fruity, spicy, sweet and perfectly shaped! I think I'm in love.
The secret to that perfect depth and shape is in ditching your regular baking pans for a good old-fashioned saucepan instead. ;-)
Sadly, it's perfection brought such tears to my eyes, and it's smell such grumbles to nearby bellies, that photos were inadvertently missed out. :-(
I'll make this one again next year, for Thanksgiving, and get some good snaps then.
This cake has all of the leading ladies of yummy and some quite tasty co-stars as well. So be decadent, get into the harvest-time spirit, and use up some of those pumpkins and apples from your autumn garden-picking adventures!
Harvest Haul Cake
Makes: 10 (or more) servings
Prep Time: 20-30 minutes
Cooking Time: 30-40 minutes

Ingredients:
*large stainless or non-stick saucepan

Cake Base
2 cups apples, sliced and peeled
.5 cup sugar
1 tbs flour
1 tsp cinnamon
3 tbs butter or margarine
1 tbs water
1 tbs lemon juice

Cake Batter
1 cup pumpkin puree
1.5 cup brown sugar
2.25 cups white flour
1 tbs corn starch
.25 cup soy milk
.5 cup buttermilk***
.75 cup butter or margarine
2-3 large eggs
3 tbs olive oil
2 tsp vanilla extract
1 tsp baking powder
1 tsp baking soda
.5 tsp salt
1 tsp cinnamon
.5 tsp nutmeg
.5 teaspoon allspice
.25 tsp powdered ginger
.12 tsp ground cloves

Optional:
.5 cup ground walnuts
1 cup dried raisins or cranberries

Directions: (for base)

1. Melt butter over medium-low heat in the saucepan.

2. Add sugar, water, cinnamon and flour, mixing until it is lump-free.

3. Continue cooking on low until it becomes quite thick and caramel in colour.

4. Place apples in mixture, let sit over heat for just a minute.

5. Remove from heat, arrange evenly in the bottom of the pan and set aside.

Directions: (for cake batter)

1. Preheat oven to 350°f (175°c.)

2. Mix all ingredients in a large mixing bowl.

3. Slowly spoon batter into the saucepan, over top of apple base.

4. Bake for 30-40 minutes, or until cooked all the way through.

5. Let sit for up to an hour before cutting, this helps to keep it cooking evenly while cooling.

*6. You can sprinkle the top with powdered sugar as a decoration if you'd like.

This may sound a bit like a simple apple upside-down cake, but it is so much more! This is a very rich and flavorful cake that is nearly a meal in itself! Great for big family get-togethers.