September 10th, 2008 by Mama
If you're new to this blog, you may want to subscribe.
Thanks for reading Vegetarian Frugal Housewife!
"Delicious autumn! My very soul is wedded to it, and if I were a bird I would fly about the earth seeking the successive autumns."
~George Eliot i.e. Mary Anne Evans, 19th-century British Novelist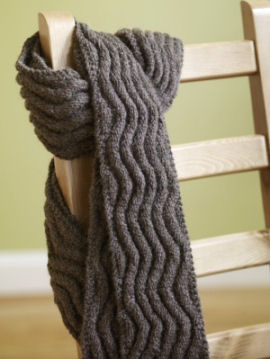 Here in England the autumn is rolling in quite quickly. By far my absolute favorite season, it has that crisp, heady smell on the breeze.
Something about the autumn makes me long for the traditional, for the comfortable and cozy. I guess that growing up in Massachusetts somehow the autumn (or the fall, if you please) became acquainted with history and family traditions like Halloween and Thanksgiving.
It seems that I have such a happy flutter in my heart when this time of year dawns and I feel the need to pull out heavier blankets, my wool cloak, long novels and YARN! Yep, that's right. I have been bitten by the autumn crafting bug a bit early this year! And being as we left all of our lovely knick-knacks and craft supplies at our apartment back in the U.S., it has been difficult to get my hands on some yarn and good knitting supplies at such short notice.
Before we set off to explore Europe and work on some of my spirit channelings, I was in the process of taking my knitting to the next level. I was graduating from afghans and scarves to baby sweaters and socks. My intention was to then get to learning fair isle and intarsia. So all of those rather groovy and expensive supplies are waiting for me, in limbo, back in Massachusetts.
When we are going to move back to North America, or whether we will at all, remains to be seen. So for now I simply NEED to get some knitting done but don't want to spend a whole lot of MONEY to get that achieved. Frugality is key folks.
I am sure lots of readers, and crafty persons, out there are wondering about making gifts for friends and family this year, since the whole world seems to be sinking into an economic recession. For me the answer was the dollar store (or "pound shoppe" as they are called in Britain.)
Having to compromise my values about free trade and natural fiber yarns was not easy for me, but I figure it is just for a while and, in this economy, frugality sometimes wins out over my politics…not often, but sometimes. In general I do not agree with plastics of any kind and I agree even less with my money going to something that was made in China. I did manage to find yarn that was made in England, but it is, unfortunately acrylic.
The fiber shop here in town wanted ₤8 ($16) for their cheapest ball of natural yarn, with only 100 meters of length. That being said, at the pound shoppe I got ₤3 ($6) worth of acrylic yarn and ₤2 ($4) worth of not-so-great knitting needles. For ten bucks I got 900 meters, enough yarn to knit 3-4 scarves or maybe 5-6 winter hats. If you try Ebay you may be able to find some luscious alpaca or mohair yarn for an affordable price, but certainly not enough to make any really BIG projects.
Most people do not like the feel of that cheap acrylic yarn close to their skin. This is easily remedied by using some fabric from an old pair of pajamas or old t-shirt to line the finished item. You do this by laying the item down on a paper bag and drawing an outline of it, this makes a template for cutting fabric.
For a scarf, make a template of 1/4 or 1/3 of its length and then just cut out and sew together the correct number of pieces to line the whole scarf. For the hat, cut out a pattern for 1/2 or 1/4 of the hat and then sew them together as above, make sure that you use a somewhat stretchy fabric for the hat lining.
Then you place the fabric and knitted item, with wrong sides together, and use a matching color of thread to sew the edges together, tucking in about 1/4 inch of fabric along the edge as you sew. This creates a nice finished edge and keeps the fabric from fraying during normal use.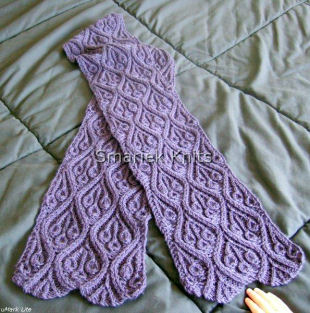 So, just for fun, here are a couple of free scarf patterns that you could use to make some quick scarves as gifts, I'm using both of these for my current projects. Plus, think of all the relaxation and enjoyment you get just from knitting them up. If you like, you can always donate them to charity.
Marijke Scarf *pictured right*
Meandering Rib Scarf (registration required for free pattern) *pictured above*
These scarves would also come out great in multiple colors and weights of yarn, so get out that scrap box and get knitting!