If you're new to this blog, you may want to subscribe.
Thanks for reading Vegetarian Frugal Housewife!
"Soup puts the heart at ease, calms down the violence of hunger, eliminates the tension of the day, and awakens and refines the appetite."
~Georges Auguste Escoffier, French Chef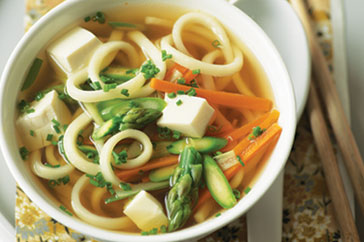 This recipe is just what it says!
Got a cold? This stuff has as much (actually more) protein in it as Mom's Homemade Chicken Soup, minus the chicken!
And, with the antibiotic properties in the onions, you'll be right as rain in no time.
It tastes so close to the real deal, folks would have a hard time telling the difference. :)
Vegan "Chicken" Noodle Soup

Ingredients:

4-6 cups of water
1-2 celery stalks, slivered
3 medium mushrooms, chopped
3 cloves garlic, sliced fine
1 medium onion, diced
1 large carrot, cut in rounds
1 package firm tofu, cubed OR
1 package vegan "chicken" cutlets, cut in chunks
1 tsp thyme
pinch of ground cumin
1-2 tsp Italian seasoning
2-3 cubes vegetable bullion
2 large bay leaves
1 tbsp sea salt
2 handfuls of pasta, I use rotini shape
6-8 tbsp of nutritional yeast OR
2 cups of "No-Chicken" broth
1/2 tsp black pepper (or to taste)
1. Cut tofu in small cubes and fry in olive oil until slightly browned.
2. Marinade tofu in 1 cup water with salt and 3 tbsp dissolved yeast flakes, or in 1 cup of "No Chicken" broth, for 2-3 hours.
3. Heat the rest of the water with the remaining "No Chicken" broth or yeast flakes, until simmering.
4. Add the onions, spices and carrots, continuing to simmer.
5. Once tofu has finished marinating, add it to the soup pot.
6. Let tofu simmer in the broth for 35-45 minutes and then add any remaining vegetables.
7. Let the completed soup simmer until all veggies are cooked thoroughly, throwing in the pasta about ten minutes before serving.
8. Remove the bay leaves from the pot, add more salt and flavorings to taste.
9. Serve with a nice artisan bread and some cool iced tea.
* You can add other veggies such as broccoli, asparagus or corn kernels, if that's how your Mom made it. ;)
Bon Appetit and Get Well Soon!!!