If you're new to this blog, you may want to subscribe.
Thanks for reading Vegetarian Frugal Housewife!
"Variety's the very spice of life, that gives it all its flavor. "
~William Cowper, 18th-Century Poet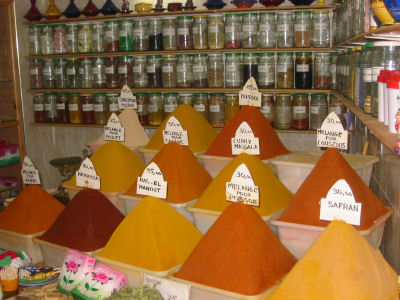 Now that we have talked about dry goods, in Stocking Up: The Vegetarian Dry Cupboard, we should look at what items you use to spice up your dishes. There are many different choices out their for flavourings but I will just highlight the most commonly used items in basic vegetarian cooking.
As they hail from so many different regions around the world, spices, herbs and sauces can be used to make a dish seem exotic and rare or familiar and comforting. Using a different combination of flavours, you can make the same dish taste entirely different, thus making your recipe collection even larger and more versatile.
The more flavours, spices and such that you keep around, the easier it will be to come up with an original meal at a moment's notice. So, try new flavours often and keep a fully stocked spice rack at all times. You can be frugal in which ingredients you choose to keep in your stock, but always supplement by being generous with your investment in herbs and spices, etc.
Spices, Flavourings and Sauces

Oils

Walnut Oil
Olive Oil
Basil Oil
Coconut Oil
Sesame Oil
Peanut Oil
Sunflower Oil

Flavourings

Yeast Extract
Malt Extract
Nutritional Yeast
Vegetable Bullion
Onion Broth

Vinegars

Cider Vinegar
Rice Vinegar
Balsamic Vinegar
White Vinegar
Red Wine Vinegar

Sauces

Peanut Sauce
Stir Fry Sauce
Sweet Chili Sauce
Soy Sauce (or Nama Shoyu)

Herbs

Thyme
Sage
Parsley
Mint
Basil
Rosemary
Oregano
Lemongrass
Bay Leaf
Lavendar
Summer Savory
Tarragon
Celery Seed
Marjoram
Chives

Spices

Turmeric
Nutmeg
Saffron
Curry
Anise Seed
Vanilla Pods
Cumin
Garam Masala
Cinnamon
Allspice
Whole Cloves
Ground Cloves
Chinese 5-Spice
Ginger
Garlic
Chili Powder
Cayenne Pepper
Paprika
Mustard

Other Ingredients

Honey
Lemon Juice
Vanilla Extract
Agave Syrup
Maple Syrup
Rose Water
Raw Sugar
Corn Starch
Raw Cacao Powder
Baking Soda
Baking Powder
Baker's Yeast

~

There are so many more flavourings, spices and sauces out there. I have only mentioned a few of the most common. With at least half of these in your cupboard you will be able to quickly whip up, or experiment with, the bulk of vegetarian recipes that you find online or in a cookbook.

Have fun. Be spicy!