August 31st, 2008 by Mama
If you're new to this blog, you may want to subscribe.
Thanks for reading Vegetarian Frugal Housewife!
"If more of us valued food and cheer and song above hoarded gold, it would be a merrier world. "
~J.R.R. Tolkien, British Author and Linguist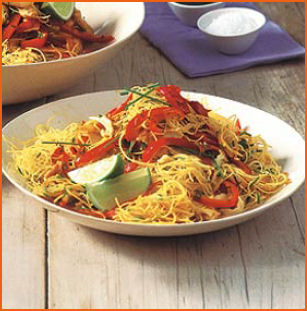 Last night I finally attempted one of my favorite Asian dishes, Singapore Noodles. Usually served in Thai and Chinese restaurants, Singapore Noodles tend to have multiple types of meat in them, such as chicken strips, pork shreds and whole shrimp. This version has most of the regular ingredients that you find in the restaurant version, sans meat.
This dish is fun, quick and brightly colored, making your table look very enticing and exotic. You can pair it with tofu satay, vegetarian spring rolls or even steamed dumplings if it strikes your fancy.
Two word of advice:
1) This uses a lot of curry powder, if you tend to have heartburn, rethink eating this dish.
2) Make sure that your rice noodles are from Japan and not China. In my experience the ones from China cook up differently and don't attain the correct texture…you will end up with yellow spaghetti if you don't use Japanese Noodles. ;)
Always feel free to make replacements for some of the veggies called for in the recipe, if you don't have the exact ingredients. The restaurant is your own kitchen which means you have free reign over experimentation.
Vegetarian Singapore Noodles
Makes: 3-4 servings
Prep Time: 30 minutes

Ingredients:

Noodles-

250 grams of rice noodles (1 package)
2 cloves garlic, chopped
1-inch piece of ginger, shredded
1 red bell pepper
2 green onions, (scallions) chopped
1 handful mung bean sprouts
1 cup dried Asian mushrooms
1 small onion, diced
1 small carrot, shredded
6-8 leaves of Napa Cabbage or Bok Choy, cut small
1 handful Pea Pods, whole or chopped
6-8 small chunks of pineapple, cut in half
4 tbs Nama Shoyu Soy Sauce
1 cup warm water
6 tbs sesame oil
1 tsp salt

Sauce-

1/2 cup coconut or soy milk
1.5 tbs curry powder
1 tbs sesame oil
1 tsp Nama Shoyu, Soy Sauce
1 tsp turmeric
pinch chili powder
pinch cumin
1 tbs corn starch
1. Prepare your noodles according to the directions on the package. (Usually they say to soak in warm water for 15 minutes.)
2. Soak the dried mushrooms in 1 cup of warm water mixed with the 4 tablespoons of Nama Shoyu Sauce.
3. Chop, dice and shred all vegetables as noted above.
4. In a separate bowl whisk together all of the sauce ingredients except for the corn starch.
5. Add the sesame oil to your wok or frying pan and fry the veggies, save soft ingredients such as green onions, bean sprouts and pineapple until near the end of cooking time.
6. Remove the mushrooms from their soak water once they have soften and add them, along with any other soft ingredients, to the wok.
7. Cook for another 2 minutes, stirring well and then add the sauce mixture.
8. Stir everything together and add the corn starch to thicken the sauce a bit. Let simmer for a few minutes.
9. Drain your noodles and pour the vegetable and sauce mixture over them.
10. Mix and serve with chopsticks, hot tea, soy sauce and/or sweet chili sauce.
Bon Appetit!