January 18th, 2013 by Mama
If you're new to this blog, you may want to subscribe.
Thanks for reading Vegetarian Frugal Housewife!
""The doctor of the future will no longer treat the human frame with drugs, but rather will cure and prevent disease with nutrition.""
~ Thomas Edison, 19th-Century American Inventor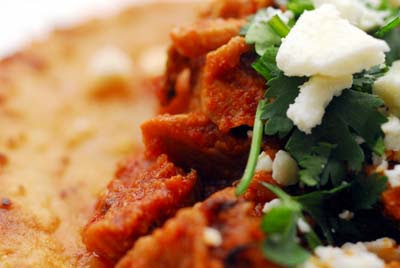 When I was in college and planning my first trip abroad I had my heart set on Northern Ireland. Maybe it was because my ancestors were Irish or because I was enthralled by the politics of the place or because I thought it would look cool on a resumé to have gone to Queen's University. At any rate, I was half way through the process of applying to the program when my best friend, a great lover of Latin America, convinced me to go with her to Mexico instead.
She had lived in Latin America before, going there to learn Spanish and weaving, but I was really only swayed by the difference in cost. Plus, when going to live abroad for the first time, it is nice to travel with a friend. Of course I hadn't considered the fact that in Ireland they speak English and in Mexico they don't. Hmm.
To say that I experienced "culture shock" would be a mild understatement. I was horrendous to be around and no one, whether the Mexican students at my school or the Americans with whom I lived and hung out, could escape my wrath. The one shining light was food. Food and sunshine. I loved walking by myself in the Mexican sun. And my best friend loved to cook too. So that was our common ground.
She had learned lots of recipes during her previous trips in Latin America and taught me a few real gems. My favorite, by far, was Chicken Tinga. It's a spicy little number made with shredded chicken and tortillas.
Years later I became a vegetarian and spent many long months without eating Tinga. Then I discovered tempeh, a match made in heaven. It has great texture, crumbles nicely and takes about any flavour you can throw at it. Hence, Tempeh Tinga was born. Perhaps not made for the cultural purists out there, but a tasty treat for any adventurous vegetarian tongue.
I hope you enjoy it!
Tempeh Tinga
Makes: Enough for 6 large burritos
Prep Time: 20 minutes
Cooking Time: 30-50 minutes

Ingredients:
Tempeh (3-4 patties, crumbled or sliced into chunks)
Plum Tomatoes (4 Large)
White Onion (Equal to Tomatoes)
Cilantro (4 or 5 Sprigs)
Garlic (2 or 3 Cloves Chopped)
No-Chicken Broth (1 cup or less)
Chipotle Peppers (1/2 Can or to Taste)
Cooking Oil

Optional:
burrito wraps
salsa
cheese
crema

Directions:

1. Crumble or slice the tempeh into chunks.
2. Dice an equal amount of tomatoes and onions. Place them in separate bowls.
3. In a saucepan, put 2 or 3 tablespoons of oil and heat it. Add the diced tomatoes to the oil and cook until soft. DO NOT allow the tomatoes to become liquid. Once softened, remove from heat and return to their bowl, leaving a bit of liquid behind in the pan.
4. Add more oil to the pan and, once heated, cook onions. Heat until transparent. DO NOT brown or burn the onions. Once they become transparent you may add the previously softened tomatoes.
5. Add tempeh and approximately half a can of chipotles, along with some of the liquid from their can. Leave some peppers whole and break up others. *The more you break up, the hotter the tinga.
6. Use the No-Chicken broth, or tap water, to wet down mixture. About 1/2 a cup to 1 whole cup will do.
8. Test the tinga for taste. If it is not spicy enough you may break up more of the peppers or add more. REMEMBER that as tinga sits it becomes hotter, keep this in mind when taste testing.
9. Fry up some flour or corn tortillas. Place tinga on top with whatever you wish. Cheese and sweet cream or sour cream are very good with it. Enjoy!