November 18th, 2007 by Mama
If you're new to this blog, you may want to subscribe.
Thanks for reading Vegetarian Frugal Housewife!
Woohoo! Papa and Mama have finally given steamed dumplings a try.
Papa, who was born in Kyrgyzstan but grew up in Ukraine, has very fond memories of steamed dumplings from his childhood. On special holidays the whole family would get together and make over two-hundred dumplings within a 24-hour period.
I only recently fell in love with steamed dumplings, during our feasts in Toronto's Chinatown. But I have been aching to learn the mastery of them ever since.
A little online exploration on the topic gave me some much-needed courage in the undertaking. I compiled the simplest instructions from 7 or 8 great recipe-sharing websites and came up with my own filling combinations in an effort to recreate those that we ate in Chinatown.
Today we made an Asian feast which, in the end, resulted in Sweet Oolong Tea, Steamed Dumplings, Fried Wontons and Hot-n-Sour Soup, all homemade! YUM!
We made dumplings wrapped two different ways (one Chinese and one, that Papa knows how to do, which is from Kyrgyzstan) and with two different fillings.
Check them out…
Dark "Meat" Dumplings

Ingredients:

Large Wonton Wrappers
Water (in a bowl)
*Scrambled Egg (in a separate bowl)

*: optional

Filling:

Lightlife Smart Ground (Regular Flavor)
Scallions (chopped)
Onions (diced)
Portobella or Shitake Mushrooms (diced)
Soy Sauce
Nutmeg




Light "Veggie" Dumplings

Ingredients:

Large Wonton Wrappers
Water (in a bowl)
*Scrambled Egg (in a separate bowl)

*: optional

Filling:

Carrots (diced)
Asian Cabbage (sliced and diced)
Ginger (grated fresh)
Extra Firm Tofu (sliced tiny)
Black Pepper
br>
br>
Other Necessities:

A round Dough Cutter (I used the lid to a jar)
A stovetop steamer, the more layers the better
A cheese grater or garlic press, for the ginger
1. Make sure that all ingredients are diced as small as possible, you may even use a blender or food mill to get them cut up very, very small.
2. Mix equal amounts of Smart Ground, mushrooms and onions (OR carrots, tofu and cabbage) in a bowl with just a touch of the other filling ingredients.
3. Prepare wonton wrappers by cutting them into the largest circle possible.
4. Fill wontons one at a time, begin by dampening the whole inside of the wrapper with a finger or two of water.
5. Using a tablespoon, fill the center of a wonton wrapper with the stuffing mixture.
6. With your finger, wet entire edge of round wrapper with scrambled egg liquid (or water.)
7. Fold and press or pinch shut along edge, beginning on one side and working towards the other.
8. Repeat until all wrappers are filled, or you run out of filling.
9. Once the steamer water is really boiling, place a single layer of dumplings into a greased steamer pan.
10. Steam 15-20 minutes until the dumplings are translucent, do not turn.
11. Turn steamer basket over and gently tap with a spoon until dumplings fall into your serving dish.
*If the dumplings stick, you can wet the underside of them with a little water or oil to ease them out of the pan.*
~
Of course I like to do things pretty big and fancy sometimes, so we had a large, coordinated place setting for each person at the table and a couple of dipping sauce choices.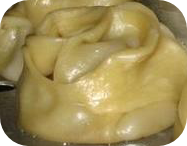 I prefer the Nama Shoyu, Soy Sauce. Papa is now thoroughly converted to the Rice Vinegar. He even drank some from the dipping bowl to prove his level of enjoyment. ;)
So we had half-moon Chinese dumplings and some rose-shaped ones from the former Soviet regions, so pretty.
The meal was amazing, and so much more frugal than how I usually get my Asian food fix, take-out style.