January 13th, 2013 by Mama
If you're new to this blog, you may want to subscribe.
Thanks for reading Vegetarian Frugal Housewife!
"The more you praise and celebrate your life, the more there is in life to celebrate."
~ Oprah Winfrey, Actress and Media Mogul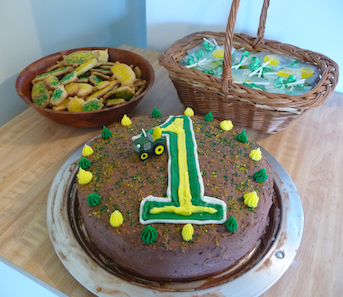 Little boys and big machines. It seems to be an innate attraction.
A little over a year ago we were blessed with our first child, a happy, healthy boy named Thoreau. As you might gather from his name, we hoped he would share our love of nature and the outdoors and maybe go in for some hiking & canoeing. Like all parents we took joy in watching him grow and blossom from a little fleshy doll into a thinking, feeling person. By his 8th month we were waiting hopefully for the big firsts: first tooth, first word, first step. Would he say "Mama" first or "Papa," or "Cat"? Who would be the first to be anointed by his sweet voice?
The winner was none of us. It was the shiny, noisy green guy next door.
No, we don't live next door to an alligator or any aliens. We live next door to a farm. Farms mean….TRACTORS! So it happened that "tac-tah, tac-tah" became Thoreau's first words and his clarion call. Forget about Mamas and Cats and Cars and Milk, life for our little boy is about tractors, whether big, small, old or new, red or green. Tractors are the end all, be all of being alive and having eyes.
It was funny and amazing to both of his parents, the way that this tractor obsession developed. We live on a busy, rural road. By Thoreau's 5th month he already loved being held by the front window so he could watch the cars, trucks, buses and motorcycles whizzing by. In fact, during his most fussy times, this was the best way to calm him. So he and Papa stood by the window, often for several hours, and watched and watched. As spring broke and the sun became warm, baby, Mama and Papa would go and lay under the beach umbrella on a blanket and Mama or Papa would say the words that corresponded to the vehicles as they passed by.
I was certain that one of his first words would be "car" since we said it so often and he loved them and it seems easy enough to say for a baby.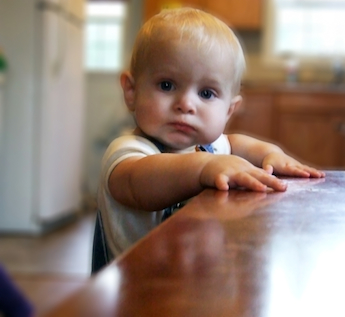 The "tractor" thing was surprising, though not entirely, since Thoreau's great-grandpa was a lifelong farmer and tractor enthusiast. Neither one of us parentals ever emphasized tractors though, they were just part of the mix going up and down our road. What was surprising, for Mama & Papa, was the way that Thoreau not only said tractor but completely conceptualized what a tractor is, looks like and does. A couple of weeks after he started saying it we happened to see a tractor drawing in a book and he jumped right at it and screamed "tactah, tactah." How did he know that crude illustration was a tractor? Then a week later the same thing to a photograph of a tractor in some ad on Mama's computer screen. And then in a country music video. Amazing! No one said, "Look it's a tractor." He just knew. Well, let's just say that babies are magical. They are capable of much more thought and understanding than you may realize.
A few months later, as his first birthday was rolling around, I began contemplating whether to have a party and what theme we should do, if any. Given my own druthers I certainly would have gone with a Halloween party. Hey, why do you think I wanted an October baby anyway? But, after a bit more thought, I knew we had to go with some tractors. I mean, really! So, green & yellow, John Deere party…here we come!
My first surprise was the complete and total lack of a big party store in my part of Canada. Somehow I should have expected this, given the number of retail shocks and disappointments I have suffered since we moved here. There are so many great tractor and John Deere themed party supplies available in the world, almost all of them in the US and hardly any of them online, unless you want to pay twice their list price just to ship them to a Canadian no-mans-land.
So, that being settled, my only choice was to ditch tractors and go with Cars-the-Movie or make the decorations myself. (Yes, yes, I know they have printable kits on Etsy but, given my lack of colour printer — thank you random lightning strikes — this would have cost nearly as much as making them myself.)
Mama then sat down and spent some quality time with Pinterest to get ideas. I made a list of what I needed and wanted for party decor and activities…balloons, invites, cake, a birthday banner, favours, some kind of game, a centrepiece, cookies and plates.
Some of this was easy to buy once I gave up the idea of having tractors on everything and just settled for yellow & green. Plates, cups and lollipop favours were all found easily and inexpensively. Invites were great, we used online invitations from Evite, with a Johnny tractor theme. That was fun and fast and kept all of my rsvps in order for me.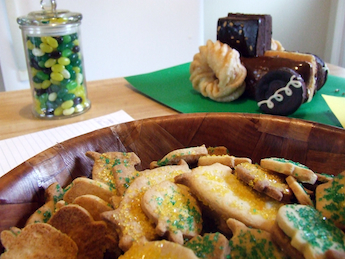 The cookies also turned out to be not too harrowing. I did go on a brief search for a tractor cookie cutter, but my local agricultural supply was fresh out. They had lots of cows, but no tractors. My collection of 140+ cutters came to the rescue. We settled on autumn apples and pigs sprinkled with yellow & green sugar, which Papa whipped up while I worked on the cake.
Our cake was a homemade masterpiece by Mama. The overall appearance was passable, but the insides were delicious! Papa is European and detests the sugary overkill that is American-style cakes. So, long ago, Mama mastered European buttercream, chocolate ganache and such. We had a devils food cake with ganache and cherry filling and a chocolate buttercream frosting. The only sugary nastiness was the piped #1 on the top, in tractor colours, which ended up looking a bit like a racing stripe. I totally lucked out and found a small, tractor candle at the local specialty foods store. It came in a 4 pack with a barn and some animals, so I had to pay 6 bucks for ONE candle…not so frugal but, hey, it was actually a tractor. That was my major splurge for this party.
The balloons were a luck-out as well. I had called every tractor supply from here to Nanavut and back, no one had those yellow & green John Deere balloons that they sometimes use for promos or the Johnny Deere shaped mylar balloons. I almost had Grandpa send us one from the states but the cost and time to arrive were prohibitive. Then, on a lark, I dug through the messy rack in the floral section at our grocery store and, after about 20 minutes, actually found something with a barn, animals and a tractor on it. It wasn't the big tractor-shaped ballon I had envisioned, but it did have a tractor on it. Good enough! I grabbed some matching yellow & green latex balloons at the dollar store and that was perfect.
For a little party game Mama used her old Baby Shower standby: guess the jelly beans. You simply buy a lovely jar of some kind, I usually use a plastic lemonade jug with spout — people love to have those. In this case I bought a small, old-fashioned glass candy jar. Everyone who arrives at the party gets one guess as to how many jelly beans are in the jar. The closest without going over gets the jar & candy to take home. I went to the local bulk foods place and bought jelly beans in tractor colours: 2 shades of yellow, 2 shades of green and black. We ended up with 385 beans in what I thought was a pretty small jar. The winner beat the loser by just 1…the loser got to take home one of the two centrepieces, since he was so disappointed.
So, after all of this cobbling together I was left with just two things that I still hadn't found and would therefore need to make: a birthday banner and a centrepiece. For the banner I scoured my local Michael's crafts, hoping to find scrapbook paper with John Deere logos or tractors on it. Nope. No going. Buying decisions are made at the Michael's home office in the USA. They are only selling to a region of people who grow most of the food in Atlantic Canada, no way those people might put farm-themed things in their memory scrapbooks, is there?!?! Anywho…I bought yellow, green and black poster board, craft foam and some glue sticks. I hand drew some tractor templates, cut out the parts and spent the better part of 3 days gluing and stringing it all together. It was a true labour of love. When it was all done, I breathed a sigh of relief and considered it a great triumph.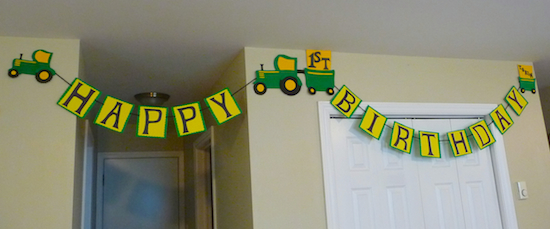 The real brain stumper for me was the centrepieces. What on earth can I make that will be tractor themed and fun and edible? Hmm. On Pinterest, I had seen some candy tractors people had made out of different shaped candy bars. But those would turn out too small to be a centrepiece.
Oh, wait, I had also seen someone using chocolate-dipped french crullers as "tractor tires" on a plate of fake grass.
I know! I will make doughnut tractors! I am a genius.
After a little chuckle, I began my planning. Each tractor would need 2 eclairs for the body, 2 crullers for the rear tires, 2 small Hostess doughnuts or cupcakes for the front tires and something squarish, like a brownie or rice krispie treat, for the cab of the tractor. (I totally forgot about the exhaust spout which could have been a pretzel stick, straw cookie or liquorice Twizzler.) Below you can find the "recipe" that I used for making them. They were sticky, fun and had to be refrigerated to keep them intact until the party started. ;-)
Standing Doughnut Tractor
Makes: 1 doughnut tractor
Prep Time: 15-20 minutes

Supplies:

2 large eclairs (unfrosted work best)
2 French cruller doughnuts
2 hostess cupcakes or mini doughnuts
1 large or 2 small brownies
1 cookie straw or thick pretzel stick
2 dozen toothpicks

Assembly Instructions:

1. On bottom side of first eclair, push 3 toothpicks part way through the eclair, one towards each end of the eclair and one in the middle, leaving 1/2 of each toothpick sticking out.
2. Add a few more toothpicks throughout the bottom side, for stability once assembled.
3. Stand the first eclair on one side and lay the second eclair, back sides facing each other, beside the first.

4. Gently work the second eclair onto the toothpick ends and wiggle until the eclairs are tight together. You should now have an oval/rectangle that is two eclairs thick.
5. Pick which sides of the crullers you would like to face outwards for your rear tires.
6. On what you've decide is the back side of each cruller, place 3-4 toothpick on the top half of the circle, leaving 1/2 of the toothpick sticking out. *Do not place them all the way round the cruller or your tires won't stand up off of the tractor body.
7. Attach each cruller to the rear 1/3 of your eclair body, on either side, by gently sliding the protruding toothpicks into the eclair.
8. Take your front wheels, whether mini donuts or cupcakes, and place 3-4 toothpicks on the back side of each, keeping to the top 2/3 of the pastry and leaving 1/2 the toothpick sticking out.
9. Attach these wheels to the front 1/3 of your eclair body, on either side, by gently sliding the protruding toothpicks into the eclair.
10. Create the cab of the tractor using brownies. If using 1 large, cut it in half. To make your square/rectangle, place two brownies, back sides together, and attach to each other using 3-4 toothpicks.
11. On the edge of your square, slide 4 toothpicks up into the brownies, leaving 1/2 of each toothpick protruding.
12. Gently press the rectangle down on top of your tractor body and wiggle until the toothpicks go down into the eclairs.
13. If adding an exhaust pipe, wiggle the cookie straw or pretzel down between the eclairs at the appropriate placement.
14. Place the tractor on a plate or cake paper and store in the fridge until your party time!

All-in-all the party was a success. We hung the birthday banner after Thoreau went to bed on the night before the party and he lost his little mind when he woke up and saw it and the balloons the next morning. It was so satisfying to see him all excited and giggly. Both Mama & Papa were worried that he might be overwhelmed when the guests arrived, since we had seen many a 1-year-old meltdown at their birthday party. Thankfully, he was just glad to have lots of people around and to play with the other kids. He enjoyed cake, quiche and pizza, followed by gift-opening. Some highlights in the gift department included a snow suit, ride-on cow toy and some Padraig booties. We saved Grandpa's wooden tractor to last and all the boys had a go with it once it was unwrapped. Folks chatted and took favours home and everything went smoothly.

As I write this, Thoreau is now 15 months old and can say over 40 words, favorites being Mama, Papa, outside, eat, apple, car, bus, truck, airplane and bike. But, of course, the tractor obsession continues….