If you're new to this blog, you may want to subscribe.
Thanks for reading Vegetarian Frugal Housewife!
"If thou tastest a crust of bread, thou tastest all the stars and all the heavens."
~ Robert Browning, English Poet and Playwright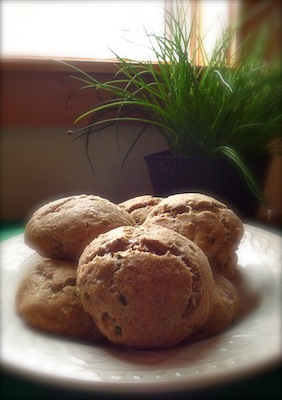 LOL. I wanted to name these biscuits something cute and that is what I came up with. Don't know why the taste of them reminded me of seafood. Probably because people alway seem to put onions or garlic, salt and butter together with seafood, so these biscuits taste to me the way that seafood smells. Weird, since they are vegetarian.
Anyway, we live in Nova Scotia now and it is (sadly) still wet, cool and windy in May. While we were out walking along the ocean today I got the urge to come home and make nice, warming biscuits. My problem? No yeast. Hmmmm…
My past experiences with yeast-free breads have not always been failures, but they've also not always been edible either. What to do? My only guess, more baking powder.
I also had some savoury ingredients in the fridge and, a real rarity in our house, actual butter (organic of course). So I threw it all together and hoped for the best. Since I am very picky about the consistency of my finished bread products, I didn't hold my breath that these would be anything other than rock solid and dry.
But, a-ha, hey presto…they came out shockingly fabulous. Soft, flavourful and great when topped with butter, hummus or cheese! I'm so proud.
By the way, though several shallots were sacrificed, no famous race horses were harmed in the making of these seabiscuits. ;-)
Oniony Seabiscuits
Makes: 9-12 biscuits
Prep Time: 10-15 minutes
Cooking Time: 12-18 minutes

Ingredients:
1.5 cups whole wheat flour
1 cup rye flour
.5 cup barley flour
3 tbs baking powder
2-3 tbs flax seed (or flax seed meal)
1 tsp salt
1.5 cups rice or soy milk
1-2 tbs honey
.5 cup melted butter (or margarine)
1 large egg (or egg replacer)
3 shallots (sliced fine)
1 large handful fresh chives (chopped)

* optional: 1/2 cup shredded cheddar cheese
* extra milk as needed for consistency

Directions:

1. Preheat oven to 350°F.

2. Mix dry ingredients.

3. Mix wet ingredients. Leave shallots, chives (& cheese) separate.

4. Slowly add wet ingredients into dry, mixing thoroughly with hands or spoon.

5. Fold in shallots, chives (& cheese).

6. Oil a baking sheet, leave a little extra for your hands.

7. With oiled hands, make biscuits by forming thick, flattened balls of dough, roughly palm size.

8. Place on baking sheet, 2-3 inches apart.

9. Bake 12-18 minutes or until an inserted toothpick comes out cleanly.

10. Cool 10 minutes.

11. Serve with butter, hummus, cheese or dip in soup.

Yummy-nummy!