November 6th, 2010 by Mama
If you're new to this blog, you may want to subscribe.
Thanks for reading Vegetarian Frugal Housewife!
"Food made by hand is an act of defiance and runs contrary to everything in our modernity. Find it; eat it; it will go. It has been around for millennia. Now it is evanescent, like a season."
~ Bill Buford, American Author & Journalist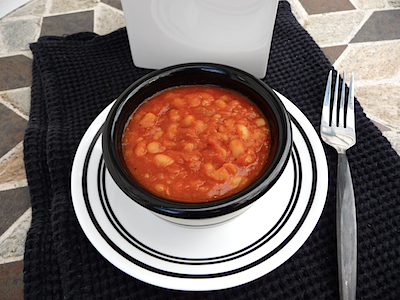 We used to live in Britain, Mama actually studied for her Masters degree there, and we just fell in love with the place. I can tell you that most of our food adventures there were homemade and centered around Indian food and using local wild plants. But, there were the occasional products that we enjoyed.
One of these was Heinz baked beans. Though Mama grew up on Boston Baked Beans, she eventually took such a liking to these British beans that it was nearly an addiction.
Fast forward to our current home in Canada and you get Heinz beans imported for $3.00 a can. Crazy! We spent 12 bucks a week on them for nearly a month before deciding that it was finally time to crack the code and make them ourselves.
Mama set to work with her innate gift, the "magical recipe tastinator" and deciphered the code pretty well. :-) A few tweaks after tasting and here is the damn-near-perfect result for you. They cost very little, make quite a lot, last ages and fill you up for hours. We hope you enjoy them!
Union Jack Baked Beans
Makes: 10-14 servings
Prep Time: 30 minutes
Cook Time: Hours and hours


Ingredients:
2 lbs navy beans
800 ml chopped tomatoes (nearly pureéd)
1 large onion, halved
4 cloves garlic, whole & peeled
3 tbs cider vinegar
5-6 level tbs brown sugar
3-4 tbs molasses
4 heaping tbs tomato paste
1-2 tbs olive oil
pinch cinnamon
pinch nutmeg
pinch cumin
1/8 tsp paprika
1 tsp prepared mustard
3-4 sprigs rosemary
2 sprigs thyme
2 bay leaves
1 tbs baking soda

Directions:

1. Soak beans for 8 hours, or overnight
2. Drain and rinse beans.
3. Put in pan, with baking soda, and cover with 2 inches of water. Bring to a boil.
4. Boil for 30 minutes. Rinse, drain and set aside.
5. Place two halves of onion and 4 whole garlic cloves in pan with oil and bouquet garni.
6. Fry for a few minutes, then add crushed tomatoes, vinegar, mustard and molasses.
7. Add beans and all remaining ingredients.
8. Return to a boil for 10 minutes.
9. Reduce heat and simmer for 2 hours.
10. Place is oven-safe baking dish.
11. Cover and bake at 250 for 2-3 hours. *
12. Fish out the onions, garlic and bouquet garni. (If you can find them, I can never locate the garlic.)
12. Test and add salt and pepper as needed.

*Alternatively, remove from stove and place in a crock pot on low for 4-6 hours.
These can be served in myriad ways. I like them with scrambled eggs, veggie sausage and fried mushrooms. We also eat them over mashed potatoes.
All-in-all they make for a very filling, tasty and nutritious meal, at a fraction of the cost of canned beans. :-)