August 29th, 2008 by Mama
If you're new to this blog, you may want to subscribe.
Thanks for reading Vegetarian Frugal Housewife!
"The truth is that life is delicious, horrible, charming, frightful, sweet, bitter, and that is everything."
~Anatole France, Winner of the Nobel Prize for Literature, 1921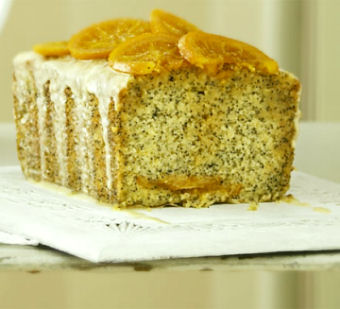 Somehow, it didn't seem appropriate to call this a bread.
I tried that tact when I first made it but Papa agreed that it was far too sweet and moist to be a bread and must, therefore, be a cake.
Still it is often listed as a "bread" in cookbooks, and it is made in a bread pan.
It's heavier than most cupcakes or iced cakes though, so I went with it being a loaf. The Victorians would probably call it a tea cake. ;)
Admittedly, as a child I hated anything even remotely lemon flavoured. But, oddly enough, as I got older the taste grew on me. I still favor a cherry cake or a zucchini bread over lemon, but occasionally I get a craving for something sweet and lemony.
All citrus flavours seem very refreshing and invigorating to me, but lemon is the most refreshing of all. Even the kids will like this loaf and you may have to beat them off of it like leftover birthday cake.
It does have quite a fair amount of sugar in it but you could substitute agave or honey and still get lovely results. Some people glaze this loaf and some don't. I do, of course, but you don't have too. ;)
Lemon Poppy Seed Sweet Loaf
Makes: Two Medium Loaves

Ingredients:

Loaf-

3 cups flour
1 tbs baking powder
3/4 tsp baking soda
1/2 tsp salt
4 tbs poppy seeds
1/4 cup butter, melted
1 1/4 cups sugar
2 eggs
1 tbs lemon zest
Juice of 1 lemon
1 tsp vanilla extract
1 1/2 cups of lemon or vanilla yogurt
1/2 cup soy milk
1/2 cup water * (The amount of liquids you need will vary, just check the consistency of your dough.)

Frosting-

1 cup confectioners sugar
2 capfuls of lemon extract
Enough lemon juice or soy milk to make the frosting liquid
1. Mix all dry loaf ingredients, except the baking powder and soda, together in a large bowl.
2. Add the liquid ingredients and mix thoroughly until the dough is evenly mixed and not too lumpy.
3. Last, mix in the baking powder and soda very thoroughly.
4. Grease two medium-sized loaf pans and distribute the loaf batter evenly in them. Alternatively, you could use a bundt or cupcake pan instead.
5. Bake the loaf for 30 – 40 minutes at 375° Fahrenheit or 190° Celsius.
6. Remove the loaves and let cool for 30 minutes. Begin making the glaze.
7. For glaze mix all glaze ingredients and be sure that the final result is wet enough to pour, but not too liquid, or it will all run off of your loaf.
8. Be absolutely certain that the loaf is cool to the touch. Warm loaves will cause the frosting to become more liquid.
9. Pour the glaze very slowly over the top of your loaf and let it runs just slightly over the edge.
10. Allow the glaze too harden over the next couple of hours and garnish with lemon peel.
Enjoy this loaf with some nice warm tea or a glass of soy milk. :) Just don't eat it all in one sitting.