December 4th, 2007 by Mama
If you're new to this blog, you may want to subscribe.
Thanks for reading Vegetarian Frugal Housewife!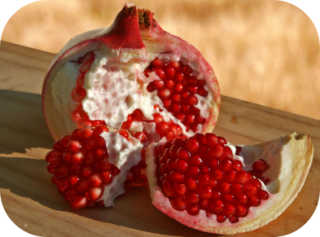 This quickie that I whipped up tonight reminded me of the wild foods that we taste-tested in my Ethnobotany & Anthropology course way back in undergraduate school.
I have always had an interest in wild healing herbs and wild foods that are available in my local environment.
Not that I claim this to be a recipe which would satisfy historical purists of any kind. I am sure that at least one of these ingredients was not available to pre-contact natives.
But in spirit, with grains, nuts and fruit, it does closely resemble that simple, wild foods, style of eating.
Its so fast and easy to make, put it in the pot and barely pay any attention to it after that.
I created it out of yummy things that we had hanging around the kitchen and it was a hit.
Native American-Style Casserole

Ingredients:

1 cup pearled barley
3 cups water
1 carrot (sliced thinly)
1 small onion (diced)
1/4 cup crushed peanut halves
1/4 cup pomegranate seeds
2 tblspn sea salt
black pepper (to taste)
1 green onion or fresh chives (chopped)
1/4 tsp nutmeg
1. Dice and slice both onions and carrots.
2. Place water in a saucepan, bring to a boil and add barley, chives and spices.
3. Cover. Reduce heat and simmer 20 minutes.
4. Add carrots, peanuts, onion.
5. Cover and continue simmering for 20-25 minutes over low heat until all water is absorbed.
6. Just before removing from pan, add pomegranate and mix.
7. Fluff gently and serve with salad.
* Some people prefer more flavors in a dinner dish and so an offering of fresh ingredients or spices on the dinner table is preferable.