November 30th, 2007 by Mama
If you're new to this blog, you may want to subscribe.
Thanks for reading Vegetarian Frugal Housewife!
By far my absolute favorite ethnic vegetarian dish in the world is Aloo Mutter. Being from the U.S. I have always wondered if that is the correct spelling, as the spelling differs depending on which Indian restaurant you visit. I prefer spelling it Aloo Mattar.
When I lived in Britain they called it Aloo Peas, which I always found funny. If you are saying the potatoes in Indian (Aloo) then why say the peas (Mutter) in English? That's weird.
But the westernization of ethnic foods does generally tend to result in some changes to names and flavors.
At any rate, I have been desirous of testing this one out ever since a fellow Grad student whom I studied with in England (though he was on exchange from India) made some homemade Aloo Mutter for me. Thanks Sandeep!
It just occurred to me that I should have asked him the correct spelling. Oh well. His homemade Aloo Mutter was so fantastic that I couldn't believe it was homemade, and he made it so quickly too.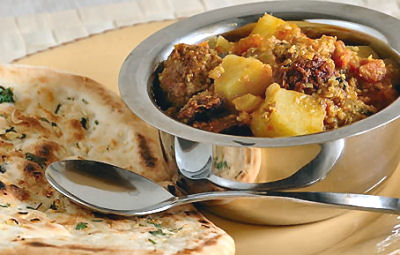 I tried making some for the first time tonight and, though not EXACTLY like the restaurant version, it was so close to perfection.
Trying not to be too proud, I am secretly astonished at how easy the creation of my favorite meal was. Why didn't I try this sooner?
The dish is usually paired with basmati rice and naan bread. We had it with the basmati and some lavash flat breads that we bought at the supermarket. I have not conquered the making of naan yet, mainly because I haven't figured out how to make it without dairy and without a tandoori oven. ;)
So, the Aloo Mutter, or Mattar, recipe for you all…
Aloo Mutter

Ingredients:

4 large potatoes (cut into chunks)
1/2 or 1 cup of cooked peas
1 inch piece (or 1 tblsp) grated ginger
2 green chilis chopped small (and/or 1 tsp chili powder)
1 medium onion (diced)
1 large tomato (chopped) or 1 can stewed tomato
1 tsp garam masala
1/2 tsp turmeric
1/2 tsp coriander
1 tblspn or 1 clove chopped garlic
1 and 1/2 cups water (or veggie broth)
3 bay leaves
1/8 tsp nutmeg
1/8 tsp ground cloves
1/4 tsp curry powder
1/4 cup soy cream
2 tblspn salt
olive oil
1. Dice and slice both onions and chilis.
2. Heat oil in a saucepan, then add onions, ginger and chilis. Fry for a couple of minutes.
3. Add all spices and continue to fry over medium heat until onions soften.
4. Add tomatoes and potatoes, pressing some of the tomatoes with the spoon to squash them a bit.
5. Add watter or broth.
6. Cook for 15-20 minutes over med-low heat until potatoes soften.
7. Add the peas and simmer a few more minutes.
8. If the mixture has not thickened to a consistency that you like, add a tblspn of corn starch and wait a minute or two.
9. When ready, serve with basmati rice and a couple of pieces of naan or some other flat bread.