November 16th, 2007 by Mama
If you're new to this blog, you may want to subscribe.
Thanks for reading Vegetarian Frugal Housewife!
I don't know about you all out there but I absolutely LOVE zucchini bread. That's one of my favorite things about autumn, all the zucchinis waiting for me to use them up.
There is just something so cool about turning a bright green veggie into a nice, moist, sweet bread.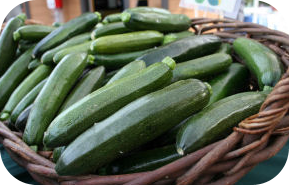 I figure that Deadheads are also called hippies and the Green Party is consider to be the "hippie" party and since being "Green," to me, is a sweet thing just like my bread, it isn't so far-fetched to call this a Deadhead Bread.
Not that I am dead in the head, but there is something about the music of the Grateful Dead that brings a smile to my face and makes life seem just a little bit brighter.
The bread is kinda messy to make but all things worth having are worth working for, right?
This recipe makes two good-sized loaves or several smaller loaves.
Papa thinks I should call it zucchini "muffins" or zucchini "cake" because it is so darned yummy. I have been accused of this recipe originating from the Devil, because it turns even the kindest people into greedy, gluttonous beasts! But hey, the Dead said A Friend of the Devil is a Friend of Mine. ;)
I hope that you all like this bread a lot! Be angelic and share some with your loved ones!
Deadhead Zucchini Bread

Ingredients:

3 cups of organic flour (regular or gf)
3 cups of freshly shredded zucchini
2 cups turbinado sugar (or brown sugar)
3 eggs (or egg replacement)
3 tsp cinnamon
1/2 tsp baking powder
1 1/2 tsp baking soda
1 tsp salt
1 cup oil (or 1 1/4 cups butter)
1/8 tsp ginger
1/2 tsp nutmeg
1/8 tsp ground cloves
1/2 tsp allspice
1/2 tsp pumpkin pie spice

optional:

2/3 cup raisins or
2/3 cup chopped walnuts
1. Preheat oven to 325°.
2. Combine all wet ingredients in one mixing bowl.
3. Combine all dry ingredients in a larger mixing bowl. (Leaving raisins or nuts on the side.)
4. Fold wet ingredients into dry ingredients until thoroughly combined.
5. Place mixture evenly in greased baking pans.
6. Bake on the middle rack of the oven. 50 minutes to 1 hour is sufficient for two large loaf pans.
7. Cool until able to remove from pans without breaking.
8. Cut and serve alone or with yummy melted butter on top!!!
~
"Good food is the secret to great health" -housewife, 2007