November 12th, 2007 by Mama
If you're new to this blog, you may want to subscribe.
Thanks for reading Vegetarian Frugal Housewife!
Looking for a good Autumn recipe to try on your friends and family?
This is one that I mashed together with features from several different sources and a little of my own addition for inspirations' sake.
It will work as a main course for any die-hard vegetarians but also makes a lovely side-dish to a larger meal (such as Thanksgiving Dinner.)
Sweet Root Veggie Cornucopia

Ingredients: (Items marked with an asterisk are optional)

1 Butternut squash
4 large Potatoes
5 Shallots
1 large or 2 medium Turnips
5 Parsnips
5 Carrots
*2-3 Apples
*2-3 pieces Celery
1 cup Maple Syrup
1/2 cup Olive Oil
1/2 teaspoon Cinnamon
1/2 tablespoon Garlic
large pinch Nutmeg
*1/4 teaspoon Cayenne
*pinch Paprika
1 tablespoon Salt
1 teaspoon Black Pepper
1. Preheat oven to 450° Fahrenheit, oil a roasting pan or baking dish. (I used a very large lasagna pan. But an earthenware casserole dish would do quite nicely.)
2. Cut all veggie into 1/2 inch rounds or 1 inch chunks. Peel any veggies that you wish to peel, I suggest peeling the squash, the apples and the turnip but not everyone prefers this.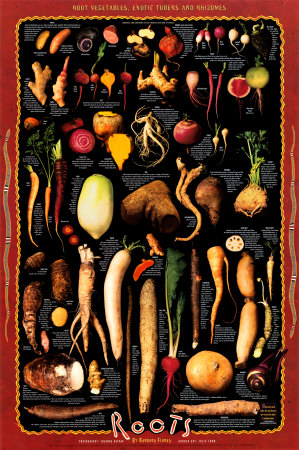 3. Combine all veggies and fruit in a large mixing bowl, or in your baking dish if its large enough to allow mixing, then drizzle both the maple syrup and olive oil over the top.
4. Toss veggies several times to ensure that all surfaces are glazed.
5. Sprinkle the herbs and spices over the top and mix thoroughly.
6. Place the entire combination in pan and bake for about an hour, mixing every 15-20 minutes.
~
This recipe (which I made tonight) is very hearty and delicious.
Many of the other recipes for this type of baked veggie dish call for Rutabaga, which I for some reason detest, so I removed it. Though I replaced the Rutabagas with Butternut Squash, you can always include or exclude any veggies that you wish.
Go on! Be creative and have fun with your food!