If you're new to this blog, you may want to subscribe.
Thanks for reading Vegetarian Frugal Housewife!
"All you need is love. But a little chocolate now and then doesn't hurt."
~ Charles M. Schultz, Cartoonist & "Charlie Brown" Creator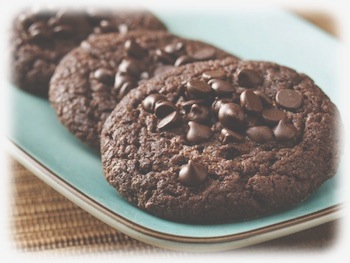 Who doesn't love sweets? Well, okay, maybe someone out there doesn't…but that someone is definitely NOT me. In fact if it is anything baked, be it savory or sweet, I simply cannot say no to at least one little nibble.
With these cookies being free from eggs, milk and butter, you can enjoy much more than a little nibble and still feel guiltless. They come out chewy and sweet, and even folks who may dislike bananas seem to really like them.
While on vacation in Guatemala recently, my fiancé and I found a little natural foods market near Lake Atitlan which carried all kinds of lovely vegan necessities. (Totally surprising, for Guatemala.) And the greatest thing wasn't their fresh juice bar, which was groovy, but it was their vegan baked yummies! Delicious!
And that, my friends, was my first foray into using bananas to replace eggs and milk in your cookie recipes.
Inspired by some friends who love chocolate more than anything, I have created these double chocolate cookies with both chips and cocoa (cacao) powder.
You'll want to make a double batch, trust me!
Vegan Banana Choco-Chip Cookies
Makes: 12-15 cookies
Prep Time: 15-20 minutes
Oven Temp: 350° F
Cooking Time: 10-14 minutes

Ingredients:
1.25 cups of flour
.5 tsp baking soda
1 tsp baking powder
.5 tsp salt
.75 cup brown sugar
.25 cup cocoa powder
pinch cinnamon
pinch nutmeg
1.5 cups vegan chocolate chips
2 overripe bananas, mashed
2 tbs applesauce or peanut butter
1 tsp olive oil
1.25 tsp vanilla extract
* .25 cup soymilk

Directions:

1. Mix all dry ingredients in a large mixing bowl.

2. Add wet, or sticky, ingredients and mix or cut in with a spoon or pastry cutter.

3. Use your hands to work everything together really well.

4. Check the consistency of the dough and add a bit of extra flour or some soymilk to adjust.

5. Place on a greased cookie sheet in lumps or little balls.

6. Cook at 350° F for 10 to 14 minutes. Remove when slightly browned at the edges.

7. Cool for 10 minutes.

Now sit back with some yummy vanilla rice milk and enjoy, Enjoy, ENJOY!!! :-)