If you're new to this blog, you may want to subscribe.
Thanks for reading Vegetarian Frugal Housewife!
Mmmmmm, yum. I just adore sloppy joes. They were not a regular staple in my life before I became a vegetarian but they always remained a special treat, a once-in-a-while thing that occurred mostly during summer and autumn.
But I have to admit that I am so excited about all the cooking and exploration that I have been doing since I became a veggie-head.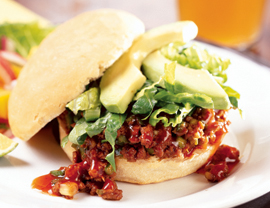 I would never go back to the old hamburg-and-Manwich type of sloppy joes!
Now, I am a New Englander (a.k.a. Yankee) by birth and so I prefer a sweet sloppy joe as opposed to a spicy one. And I prefer to serve it over a nice SWEET corn bread.
So here is a simple, quick and oh so tasty veggie version of Sloppy Joes. (Corn bread recipe to follow soon.)
PS. Papa and Mama are finally engaged!!! How to plan a veggie wedding? Hmmmm….
Meat-Free Sloppy Joes

Ingredients:
1-2 lb Veggie Mincemeat (ie. Lightlife Smart Ground or Quorn mince)
2 whole cloves garlic
1 lrg or 2 med green bell peppers
16oz tomato sauce
1 medium diced onion
4 tbs soy sauce or Worcestershire sauce
1 tbs mustard
2-3 tbs brown sugar
1 tsp black pepper
6 tbs ketchup
1 tbs salt
3 tbs cider vinegar
1/2 cup tomato paste (or fresh tomato chunks)
pinch nutmeg
pinch oregano
3 tbs olive oil
1. Chop onions, garlic and peppers.
2. Fry mince in pan with olive oil, salt and pepper.
3. Add spices and soy/worcetershire sauce.
4. Add chopped items and fry a bit more until onions soften.
5. Add ketchup, vinegar, tomato paste and tomato sauce.
6. Stir. Cover. Reduce heat and simmer for 5 minutes on low.
7. Test flavor and add more spices as needed.
8. Simmer 5 more minutes and serve over buns or bread.
I really like this either as a sandwich, on a bun, or just ladled over corn bread on a plate.
If you have it as a sandwich, you can experiment with toppings, going for bean sprouts, fresh avocado slices, vegan cheese or even hot chili peppers.
It all depends on your mood!!!
Everyone loves Sloppy Joes and if you'd prefer them spicy you can just throw in Tabasco sauce and cayenne pepper where I have added brown sugar and nutmeg. ;)
Enjoy.